The 2023 Cosmoprof Asia Hong Kong is coming soon.
During the past 3 years, COVID-19 changed the world and gave big challenge to the hair scissors industry. Razorline always devotes to develop and innovate new products to support customers. In the past two years, we invested US$500,000 CNC machines, it greatly improves production capacity and enhances products' competitiveness.
The 2023 Hong Kong Exhibition will be a fantastic opportunity for us to showcase our latest product lines and solutions. We cordially invite you to visit our booth and experience the exceptional quality and innovative products offered by Razorline. This will be a chance for us to engage with you face-to-face and delve deeper into how we can meet your needs.
We clearly target customers in the European and American markets, as well as brand owners, retailers, beauty salons, hairdressing establishments, and bulk purchasers of hair scissors and hair tools from various markets. We deeply understand the pain points and needs of the hair scissors manufacturing industry: a lack of cost-effectiveness, poor quality, slow delivery, and inadequate service. These challenges represent our opportunities because we respond to your needs with the following advantages and selling points:
Market Reputation: We take pride in being recognized as the "leading professional hair scissors manufacturing factory in China."
Factory Positioning: We are a professional hair scissors manufacturing factory in the mid to high-end segment, providing customization services to mid to high-end customers.
Technological Advancement: We maintain close ties with the hair scissors manufacturing industry, ensuring that we always keep up with the latest technologies and trends, thus guaranteeing product quality and technological advancements.
Customized Solutions: We offer personalized solutions to our customers, including OEM and ODM services and professional brand customization design services.
Quality and Reliability: Our hair scissors and other products go through more than ten quality checks during the manufacturing process, ensuring that customers receive high-quality products, including CE certification.
Cost-effectiveness: Through our one-stop hair tools procurement service, we help customers reduce manufacturing costs, save time and resources, and enhance production efficiency, thus allowing customers to maintain a competitive edge in the market.
In the coming Cosmoprof Asia Hong Kong in Nov., we'll make a grand launching with more than 70 pcs new CNC-tech hair scissors, which includes 6 series below.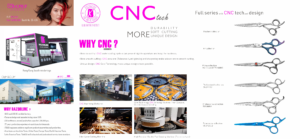 Masters' collection – New special collection of hand-crafted scissors, made by more than 20 years experienced masters.
Art collection– Hair scissors with colorful wood handles
Premier collection– VG10, JAPAN440C
Professional collection – SUS440C
Professional collection – SUS440A
6. Economical collection – SUS420J2
Our booth No.: 3G-L2A
Date: 15-17th Nov. 2023
Add.:Hong Kong Convention & Exhibition Centre–1 Expo Drive Wanchai Hong Kong
Razorline welcomes your participation and looks forward to establishing a long-term partnership, providing you with outstanding products and services. Contact us now to learn more about how we can collaborate and for details on participating in the 2023 Hong Kong Exhibition. Let's shape the future of the hair scissors industry together!